News & Events…
Tribute on Late Mr. Kadiri Ajasa Apampa FISLT (1946 – 2020) President, Nigerian Institute of Science Technology (1994 – 1997)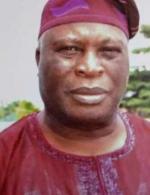 2020, Oct 23
Having to write this tribute on my Late 'Oga' as I profoundly called him was with mixed feelings and a daunting task. First, sorrow filled my heart, a sorrow that was deep and personal to come to terms with that my 'Oga' has silently closed the door of life and exited from us permanently on 11 September 2020. Second, it is an honour because he stood apart as someone who was special to me with the privilege to have known and worked with him closely in the service of our great profession of science laboratory technology. Between 1994 and 1997, Late Apampa served as the President/Chairman of Council while I served as Registrar/Secretary of the Nigerian Institute of Science Technology (NIST) as it was then called. Our joint ticket for these elective positions then was driven by his passion and desire to re-create the profession which was fast becoming endangered and unable to carry out its institutional activities due principally to absence of an enabling law of establishment.
Uppermost on our agenda therefore was the need to quickly address this fundamental institutional deficiency to pave way for a well-structured professional body that is recognized by statue of the Land and meeting the yearnings of members of the Institute. Accordingly, we devoted our efforts to the promulgation of the enabling Act which for over twenty years defied all attempts by previous Executive Committees of the Institute to achieve. Mr. Apampa was passionate about enabling the profession to be recognized as a key stakeholder and player in science, technology and innovation (STI) system in Nigeria for which he committed substantial personal resources to execute. As a covenant between him and myself, we took it upon ourselves to be the transformational and change agents needed to move the Institute forward.
Within one year of our focus and pragmatic approach, we partly achieved our set objective in 1995, when the Federal Ministry of Justice submitted the draft decree to the office of the then Military Head of State and Commander - in - Chief of the Armed Forces for assent. Unfortunately, this Decree like others at that time was not assented to in view of the state of affairs of the nation under the military rule. So this opportunity was lost but hope was alive to achieve our target.
Mr. Apampa's leadership of the Institute was short lived in view of his other business engagements. Although we worked together much too short, he had laid the foundation to achieve the great tasks ahead. Continuing the struggle by the dedicated and committed Executive Committee that took over after him, the enabling Act in 2003 was successfully processed under the civilian regime. Thus, the journey of a new professional Institute began, the initiative which could be attributed to Late Apampa.
Late Mr. Apampa was a determined, collaborative and goal - oriented caring person who loved life and what it offered. His enthusiasm for a greater profession was passionate and infectious and he was regarded as one of the architects of the landmark achievements in the Institute as we have today. Among other contributions, he helped to supervise most of the building structures in the Institute including the Multipurpose Science Laboratory using his technical expertise. He participated actively and sponsored some programmes in some of the Annual National Conferences of the Institute before the end of my tenure in 2016. He gave energy, commitment and inspiration to us. The Apampa I knew and remember was a happy man, one who not only was cheerful in himself but who gave much cheerfulness to others. He had a beautiful smile, a sense of humour and a gentle demeanour. He was bright, logical and systematic in his thinking, always willing to share his ideas and information.
By his demise, all of us who knew him would miss a highly resourceful and vibrant individual with a rare friendliness, charm and generosity. He was a genuinely warm and wonderful individual.
Let me end up with the words of a famous scientist, Albert Einstein, "The value of a man should be seen in what he gives and not in what he is able to receive". In one word, Mr. Apampa was a man who gave. He gave much to the development and progress of the profession of science laboratory technology in Nigeria. He was sincere, he was earnest and he was loyal to the noble course of the profession.
Good bye my dear 'Oga' forever.
Dr Ighodalo Folorunso Ijagbone
Immediate Past Registrar/Direcror-General/CEO
Nigerian Institute Science Laboratory Technology
---
See Other News & Events »