News & Events…
Renewal of Appointment of the Director-General/Registrar/CEO of NISLT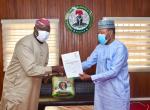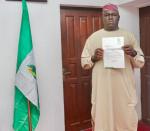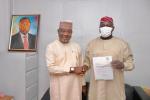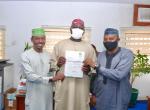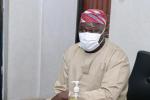 2021, Jul 05
The President and Commander-in-Chief of Armed Forces, Federal Republic of Nigeria, President Muhammadu Buhari GCFR has approved the Renewal of Appointment of Mr. Yemi Hezekiah Gbadegesin FISLT as the Director General/Registrar/CEO of Nigerian Institute of Science Laboratory Technology. The second tenure of the DG is for four (4) years effective from 1st July, 2021. The first tenure of the DG ends June 30, 2021.
The Institute Governing Council at its 30th Meeting held on April 15th 2021 at the Institute Secretariat, Ibadan unanimously recommended Mr. Yemi H. Gbadegesin FISLT for a second term as the Director General/Registrar/CEO of the Institute. The recommendation did not come as a surprise because of his meritorious performance during his first tenure in office. Some of his achievements includes but not limited to the following:
The Governing Council: The Governing Council achieved the following when he served as Secretary to the Council::
a) Approved the establishment of NISLT Zonal Offices Yola, Abakaliki, Kano and Benin
b) Approved the improved staff strength for the Institute
c) Approved prompt Implementation of National Council on Science and Technology resolutions
d) Approved Press conference on the persistent harassment of our members by Medical Laboratory Science Council of Nigeria
e) Approved Membership Revalidation
f) Gave approval for the conduct of the Resource Inspection and Evaluation of Science Laboratory Technology (SLT) Degree Programme in eleven (11) Nigerian Universities where Delta State University Abraka was sanctioned by delisting them from the list of Universities offering SLT in Nigeria based on the unwholesome report of the resource visitation.
g) Approved upward Review of Professional Membership Registration with effect from 26th March 2019 as well as that of ASLTON levy
h) Approved the establishment of Monitoring &Evaluation (M&E) Task Team
i) Approved the upgrading of the Institute Laboratory
j) Approved Professional Examination for SLT graduates from Polytechnics and Universities.
k) Approved improved induction ceremony for fellows at the Institute HQ
l) Approved the new guidelines for fellowship upgrade
m) Approved the boarding of the two unserviceable Institutes vehicles
n) Approved the guidelines for Nomination into Council
ii. Staff strength: For effective productivity and good quality service delivery, the staff strength of the Institute has moved from 98 to 158
iii. Projects and programmes: Some of the physical projects/ programmes executed are stated below:
a. In the area of education:
Completed Prototype of Model Science Laboratories (already approved by NCST 2018)

Completed the review of SLT curricula and submitted to NUC and NBT

Finalized and submitted minimum standard requirements for Institutional Science Laboratories in Nigeria to Federal Ministry of Education (FME).

Developed and published Science Laboratory Policy

Completed the assessment of Universities offering SLT degree programmes to ensure best laboratory practice in Nigeria. Nine (9) Universities were assessed out of the eleven (11) Universities offering Science Laboratory Technology degree programme across the six geo-political zones of the Country. Although (8) eight were accredited by NUC and NISLT
b. S&T Laboratory Standards for PBEIs:
Completed review of the Laboratory Standards for Post Basic Education Institutions to enhance quality education in the Country.
c. Laboratory: Started the process of upgrading of Multipurpose Science Laboratory's at the Institute secretariat, Ibadan from level I to Level III in 2021.
d. Infrastructural development:
Completed the Renovation of the Institute's office at Jabi, Abuja in 2019.

Completed the maintenance and rehabilitation of infrastructural facilities with provision of Inverter (hitherto lacking), access and internal road (700m) at Ibadan secretariat with asphalt. Inverter was also provided to all the offices, laboratories and staff canteen with 24/7 power supply.

Completed Internal Road and Drainage construction at Abuja Office

IJSO Building in Abuja: this building was initially abandoned by the FMST and now awaits commissioning. The building comprises of Multi-purpose Chemical, Biological and Physical Science Laboratories
Zonal Offices: The Institute now have four Zonal Offices. These Offices are in Abuja, Yola, Benin and Abakaliki Offices; these Offices have being equipped with office furniture and Equipment and are fully functional.
Initiated the construction of 1000 capacity conference hall at NISLT Abuja Office which is ongoing.

Completed the perimeter fence at Ibadan office and Solar Street lightening installation at Ibadan.

Initiated and constructed befitting toilets to both the Council Chamber and Council Chairman's office.

Construction of Science Laboratory at Isu, Onichia LGA Ebonyi State ongoing on a 50 plots of Land donated to the Institute by His Royal Highness of Isu Community.

4 operational vehicles (Innosson Jeep (in 2017), Toyota PRADO 2019 model (in 2019), Camry (in 2017) and Toyota Corolla 2019 Model (in 2019) were procured.
e. Establishment of Monitoring and Evaluation Task Team:
Monitoring and Evaluation Task Team for Science Laboratories in Nigeria established to curb the proliferation of quacks in both private and public Science sectors
f. In the area of Agriculture and Environment:
✔ Rapid test kits for Aflatoxin B in Agricultural produce and Bacterial DNA Extraction kits were developed in which patency process is on-going.
✔ Research in the area of Lead Poisoning at Osun and Zamfara States.
g. International Scientific Conference: the Country participated in the International Junior Science Olympiad (IJSO) competition (IJSO'2019) Doha, Qatar (3rd - 13th December, 2019) for the 1st time and came back with 2 bronze medals
h. Technology Expo: NISLT now produced indigenous products for Technology Expo.
i. Initiated and implemented through Governing Council the Professional Membership revalidation exercise and others
Considering his commendable achievements in the first term, especially in the areas of education, agriculture, innovative research and development, flagship projects, Public-Private Partnership (PPP) arrangements for their commercializable products, gigantic infrastructural development at the Institute headquarter and Abuja Office, capacity building of Technologists/Scientists and staff welfare as well as his vision and strategic plans for the future as contained in his score card made His Excellency President Muhammadu Buhari GCFR, to renew his appointment as Director-General/Registrar/CEO of NISLT effective from 1st July 2021. This was contained in a letter from the Honourable Minister of State, Federal Ministry of Science and Technology, Barr. Muhammed H. Abdullahi. The Minister congratulated the DG on behalf of the President for the renewal of his Appointment for another term of 4 years. He advised him to work harder to consolidate his achievement at the first tenure in office.
Following the news of his reappointment as the DG/Registrar/CEO of the Institute, Congratulatory Messages have being pouring in from all over the Country and beyond including the Management and Staff of the Institute.
Click here to view the photo gallery of the Renewal of Appointment of the DG
Click here to view photo gallery of some of the DG's achievement during his first tenure

---
See Other News & Events »