News & Events…
NISLT Collaborates with INQABA BIOTEC on Advanced Training Course On Molecular Techniques/Biotechnology In Ibadan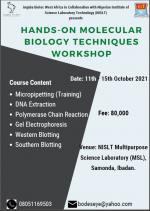 2021, Sep 10
The Nigerian Institute of Science Laboratory Technology will be collaborating with a leading Biotech Company in Africa, Inqaba Biotec for the workshop on Molecular Techniques and Biotechnology scheduled to Hold in October 2021.
The workshop Titled "Advance Workshop on Molecular Techniques and Biotechnology" is one of the workshops on the NISLT 2021 Workshops and Short term training courses series which has been scheduled to hold at NISLT headquarters in Ibadan from 11th – 15th October 2021 in partnership with Inqaba Biotec.
Inqaba Biotec is a South African Based Biotechnology Company with a regional office for West Africa in Ibadan, Nigeria. The Company offers services and products in Life Sciences, Molecular Diagnostics and serves as distributors for other strong International manufacturers of laboratory consumables, instruments, and bioinformatics software.
The Collaboration is expected to enhance the quality of the workshop in terms of content, also more advanced techniques have been incorporated into the course.
The purpose of this workshop is to provide further practical knowledge in the area of Molecular / Biotechnology techniques. This course is meant for those that are working in the specified area and needs further training and exposure. Newcomers are also allowed.
Further Details on Workshop is available on the Training Here or Download the Flyer Here
---
See Other News & Events »